As government customers rely more on gaming, modeling and simulation, the Simulation Gaming & Terrain Team (SGTT) provides simulation-ready, analysis-quality gaming environments and accurate content for decision-making in an efficient and cost-effective manner. SGTT delivers the real and conceptual 3D content and gaming technology necessary for simulation projects surrounding national security, exploration, and visualization of security concepts. Our terrains include texture, models, building interiors and exteriors, and animated characters. The team consists of experienced 3D modelers, game designers, Geographic Information System (GIS) specialists, and programmers. We use the latest software technologies to facilitate to customer learning objectives and to measure performance outcomes. We take pride in developing reliable, cost effective terrains for simulation, gaming, and table top exercises. Our customers include various government agencies and internal Sandia efforts.
Simulation
SGTT builds 3D terrain models to help customers seek out discontinuities, paths, and features to improve confidence, accuracy, and save time and money for your project. Real and notional simulations can be applied in game development environments. Terrain affects surface water flow, distribution, weather and climate patterns, all calculated by elevation, slope, and orientation of the Earth. Terrains are also used for sensor detection and force-on-force simulations.
Our models can be site specific for analysis or conceptual for project planning. Models are developed from two dimensional GIS/CAD data to create a highly realistic visualization of the area of interest. Terrain models are then quickly integrated into gaming engines for physical security analysis. The SGTT is able to easily update models with modifications as new features are built or removed, proving near-real-time accuracy. Sandia proprietary tools, such as OpShed, Dante, Dante Table Top, and Opinsight, are used for simulation and analysis.
A customized program is designed with customers based on the following constraints. This deliverable may include storyboards, prototypes, user interface, and the general look and feel.
Project goals and objectives
Current learning environment(s)
Existing constraints
Timeline
3D Model Development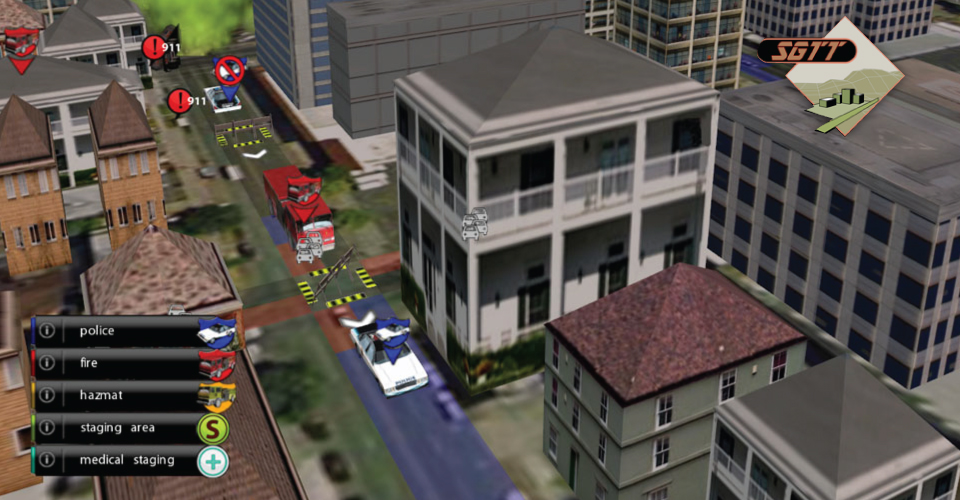 3D Modelers in the SGTT create custom games and simulations to meet your needs, taking projects from inception to completion. Terrain models are developed using GIS elevation, imagery, and physical features. Real and notional environments are accurate representations for highly-effective training. Models include roads, rivers, buildings, weapon avatars, instruments, and many other assets. Accurate 3D models can be created with scanners as noted in the Scanning capability.
Models are created using a variety of tools including:
GIS/ Cartography
Geographic Information System Analysts can accurately portray object locations, human behaviors, and patterns of phenomena that shift periodically. Tasks include Raster Imagery, Digital Elevation Models, and Vector Models. Once data is acquired it is used to produce realistic simulations ready, analysis quality 3D models. Our modeling structure is composed of the import of accurate GIS data, the production of models that depict objects realistically on the created terrain, and the export of a fully functional terrain model for use in Serious Gaming Applications and Site Planning.
Our products are delivered in a timely manner and at a lower cost. We are able to leverage numerous applications for format capability and optimization that match customer needs. SGTT members have more than 15 years of experience in the development of gaming systems and Geographic Information Systems.
ESRI Arc Editor, 3D Analyst, Data Inoperability, Network Analyst, Spatial Analyst
Global Mapper, Earth Pro
Presagis Terra Vista
AutoDesk AutoCAD Civil 3D
Terrain
Our team members are highly skilled in the use OF GIS applications for use in basic to complex map production used in design and analysis. Three dimensional terrain models can be site specific or conceptual for project planning to portray the area of interest. By integrating terrain models into gaming engines, the SGTT enables spatial and geo-statistical analysis in relation to predictive scenarios and patterns for physical security. Terrain model improvements are executed quickly and efficiently as additions and modified features are built. Three dimensional analyses use view shed, OpShed, slope, and volumetric data. We also use GPS tools for site surveying to generate geospatial point locations that are within sub-meter accuracy.
Scanning
Members of the SGTT are well-qualified and trained in usage of FARO Laser Scanners and software for point cloud to 3D CAD Model Generation. We have the ability to scan areas of interest and produce replicas of interior and exterior buildings in their accurate visual form. Each scan can produce high-precision 3D measurements and imaging of a project area within reasonable time frames. Finished models are used for physical security analysis, facilities planning, and real time visualization.
Analysis
The team uses tools that seek out discontinuities, paths, and features to improve confidence and accuracy in an efficient manner. Our primary goal is to help each customer maximize business potential by creation custom tailored virtual simulations.
Serious Gaming
Our team's extensive experience working with game engines allows us to help choose the right tools for the job, taking the most cost effective and efficient approach in content creation for any of these systems. We leverage pre-existing GOTS and COTS gaming technologies to deliver products as well as stay at the forefront of the latest technology. Gaming content we create is rarely conceptual; it is usually delivered from real, validated GIS data that can be collected from existing resources or through data acquisition using 3D scanning equipment or third party vendors.
Our team continually endeavors to stay abreast of the latest gaming methodologies and technologies. Our approach is to create content once that can be used across simulation and gaming systems. We bring success to our customers' virtual simulation and gaming needs by providing expertise in a technology, threat knowledge, missions, and systems.
Gaming and terrain model technology includes:
Adobe Photoshop
Autodesk 3DS Max
Rapidform XOR
Google SketchUp
Data Curation
Different projects often share similar data, such as terrain, 3D content, and more. For efficiency in future developments, the SGTT leverages a common database that is capable of storing and sharing data within the DOE/DOD community.
Services
3-D model creation
Real terrain
Data sources
Virtual prototypes
Workspace prototypes
Buildings, characters, vehicles, vegetation, water
Notional terrain development
Data repository and archiving
Gaming environments
Effects rendering
SGTT Fact Sheet
Contact Us
Simulation & Gaming
Terrain Team
Fred Oppel
SGTT@SANDIA.GOV
(505) 844-7929